Your Credit Union is a not-for-profit financial cooperative providing the best service to our most important assets - our members.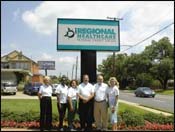 Mission Statement
TES Regional Healthcare Federal Credit Union, owned by the membership, is committed to the healthcare field in eight parishes of Louisiana. Our mission as stewards of the credit union include providing the best possible service and developing products that meet the needs of the membership.
Affiliations - Regulation and Supervision
This Credit Union is chartered under federal law. Federally chartered credit unions are regulated by the National Credit Union Administration (NCUA), an independent agency of the U.S. Government. NCUA's three board members are nominated by the President and confirmed by the Senate. NCUA administers the federal insurance fund (NCUSIF), which covers all federal credit unions. No taxpayer money is used for regulating and overseeing federal credit unions, as all activities of NCUA and the NCUSIF are funded by credit unions.
Credit Union History
TES Regional Healthcare Federal Credit Union was originally established in April 1957 as Schumpert Federal Credit Union to serve employees of Christus Schumpert Health Systems. It has since grown to include all employees in the healthcare industry and their families in the parishes of Caddo, Bossier, Webster, Desoto, Claiborne, Lincoln, Bienville and Red River. The name was changed to T.E.S. Regional Healthcare Federal Credit Union in honor of T.E. Schumpert, a Shreveport physician and surgeon who opened a 16 bed hospital in 1894, setting the foundation for Christus Schumpert and the Christus Health System today.

We are honored to serve those who serve others. With all of the services that we offer, we have the ability to act as your primary financial institution. Unlike banks, credit unions are not-for-profit financial institutions. This means that any excess profit is returned to the members in the form of lower interest rates on loans, high dividend rates on shares and lower fees and charges.